This elegant story, rich in insight into what it takes to make innovation happen, has already had tremendous impact in GE executive development programs and on key innovation projects."

– Stephen Liguori, Executive Director – Global Innovation and New Models, General Electric
How Stella Can Entertain and Enlighten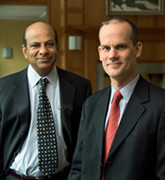 Dear Prospective Reader,
Thank you for your interest in our work.
By now, you've probably gathered that How Stella Saved the Farm: A Tale About Making Innovation Happen is not a typical business book. It is a parable. We wrote Stella in the spirit of George Orwell's Animal Farm. It is a story about animals who run their own farm; it is also a light read with very serious intent.
Stella is actually a composite of dozens of innovation case studies that we wrote over the past twelve years. Every detail in it, save those obviously meant to amuse, is based on the real experiences of real organizations. Stella delivers the same fundamental lessons as our more formal business books, particularly The Other Side of Innovation: Solving the Execution Challenge.
By reading the story, you'll discover how to avoid some of innovation's most toxic myths, how to build the right kind of team, and how to learn quickly from experience. The lessons will resonate in most any kind of organization—public sector, private sector, and social sector, from mammoth corporations to small companies employing just a few dozen people. Several organizations, including major Fortune 500 companies such as AT&T, John Deere, and GE, have already used this book to stimulate open and non-defensive conversations about what it really takes to make innovation happen.
All of this said, what busy executives seem to appreciate most about the book is that it is short. Stella is a one airplane ride read, even if you are just flying from Boston to New York.
We hope you'll find Stella both pleasurable and provocative.
Warm Regards,
Vijay Govindarajan and Chris Trimble